Crawl Space Encapsulation System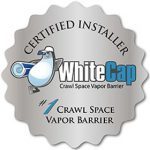 The Key to a Healthy, Safe Crawl Space
In any home, the crawl space is going to be the scariest and most unpleasant space. This happens when water makes its way inside, causing the growth of mold, mildew, and unwelcome pests. This may seem like an issue that you can ignore, but it can become dangerous. About half of the air you breathe in the upper level of your home comes from the lower level, meaning all the nastiness from your crawl space is going into your lungs.
If you are living with a wet, nasty, or smelly crawl space, then you may need something called crawl space encapsulation. In short, this is the process of sealing off your crawl space from outside forces. After the process, your crawl space will be protected from moisture and humidity, which will prevent future mold and mildew growth and keep your family healthy.
Certified WhiteCap Installer
Foundation RESQ, we use a specialized method of crawl space encapsulation called WhiteCap. WhiteCap does everything that standard crawl space encapsulation services are meant to do but is much more durable and thorough. Standard crawl space liners found in home improvement stores will protect your home for a short time, but will quickly tear and degrade. WhiteCap, however, is a permanent fixture in your home and will protect you for years to come.
Don't just take our word for it, though. Compare the photos below to your own crawl space at home, and we're sure you'll see a clear difference! You can also learn more about how exactly WhiteCap Crawl Space Encapsulation works here.
Contact Us Today!
If you're ready for a permanent solution for your moldy crawl space, it's time to get in contact with the specialists at Foundation RESQ. The only thing you need to do is fill out our short contact form, and we'll take it from there. We offer free inspections, so you can always take the safe route without worrying about the cost.
After WhiteCap Encapsulation